Taking the plunge into the planner world can be a bit intimidating. Especially if you know that there are many different types of refillable planners out there. You can read my post here on refillable planners.
For many people, buying that first planner is a big investment. Many of the planners cost close to $60.00 or more. Dropping that much money on something you are unsure about is a big risk. My suggestion to you is to first find a simple and less costly planner you can test out. That way, if planning turns out not to be your thing, you won't have to regret spending so much money.
I have complied a list of a few planners that are great for testing out to see if the paper planner thing is right for you.
1. Target Dollar Spot
Target comes out with new designs for their dollar section every month or so. Their items range from $1-$5. Most of the planner related items are either $1 or $3. If you're lucky, you can find a binder and a set of inserts for only $6.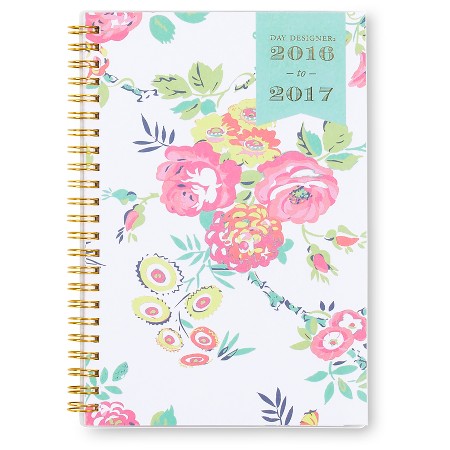 2. Day Designer
This Day Designer Planner can be found at Target. The original price is $7.99, it is currently on sale for $7.19. Plus, if you have a Target REDcard, you save an additional 5% making this planner only $6.83.
3. Barnes and Noble Punctuate Planner
This planner from Barnes and noble starts popping up in stores around summer time. If you think a ring binder is something you want to try, I definitely recommend this one. This planner is usually about $10 and you can probably score anywhere from 10%-25% off with coupons.
4. May Designs
May Designs is a company that creates custom notebooks. They have various inside pages to choose from including note pages, planner pages and coloring pages. A completely customized notebook is $23, however May Designs constantly runs promotions and I have gotten my books for as little as $9.00 (plus shipping).
5. Micheal's Recollections Planner
This planner from Recollections is sold only at Micheal's craft stores. The original price of this planner is $19.99. If you can find a 50% off coupon, that makes this planner a whopping $10.00. Monthly and weekly inserts need to be purchased separately.
You can find many more planners under $15 at stores such as Walmart, Office Max, Staples and almost anywhere you purchase school supplies.
I hope you're able to find a planner that is in your budget and that works for you!